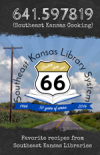 SEKLS Cookbooks
The SEKLS cookbooks have arrived!
We are beginning to distribute these to libraries which have requested them. If you haven't requested any yet, find the details attached to the e-mail Roger Carswell sent on Jan. 6.
CE Implementation Project
A new CE opportunity which allows your library to receive additional hours of CE credit for an implementation project as a follow-up to certain SEKLS workshops is now available. This will be of most interest to public libraries in meeting their continuing education criteria for the allocation, but is available to all libraries. Eventually, completion of a CE implementation project will be a part of the allocation criteria as well, but not for 2016 or 2017.
For workshops in 2015, proposals may be submitted up until March 31, 2016. Here are the 2015 workshops we are designating as eligible for additional credit by conducting an implementation project:
May 14, Bus Trip to Makeover Libraries, OR June 5, Remodeling Ideas from Bus Trip (a session at the Annual Meeting)
June 5, Oral History Toolkit (a session from the Annual Meeting)
June 5, Displays on a Dime (a session from the Annual Meeting)
Sept. 15, 16, or Oct. 21 The Small Community Advantage in Library Fundraising
Sept. 17, Sensory Storytime
Sept. 24, Facilities Maintenance
Nov. 6 or Dec. 17, LibraryAware Training (for SEKnFind libraries)
SEKLS 50th Anniversary News
On June 27, 1966, the State Library Advisory Commission passed a resolution establishing the Southeast Kansas Library System. In 2016, we will be celebrating our 50th anniversary.
SEKLS had actually been operating since sometime in 1965 as a demonstration project, so this year could be actually considered our golden anniversary, but we have arbitrarily chosen 2016 as the year to celebrate. SEKLS was one of three systems established at the same time, the other two being Central and Northwest. The other four systems followed in 1967.
SEKnFIND Consortium
Fall River has joined SEKnFIND and a retrospective conversion is underway. They are the 42nd library to join the consortium.
The Kincaid Community Library has just joined SEKnFIND and a retrospective conversion will begin after Fall River is completed. They are the 43rd library to join.
K.A.R. 54-4-1 Children's Internet Protection
Click the following link for the public library internet access policy requirements for children's internet protection.
Public Library Requirements