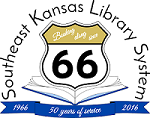 SEKLS 50th Anniversary News
On June 27, 1966, the State Library Advisory Commission passed a resolution establishing the Southeast Kansas Library System. In 2016, we will be celebrating our 50th anniversary.
SEKLS had actually been operating since sometime in 1965 as a demonstration project, so this year could be actually considered our golden anniversary, but we have arbitrarily chosen 2016 as the year to celebrate. SEKLS was one of three systems established at the same time, the other two being Central and Northwest. The other four systems followed in 1967.
SEKnFIND Consortium
Fall River has joined SEKnFIND and a retrospective conversion is underway. They are the 42nd library to join the consortium.
The Kincaid Community Library has just joined SEKnFIND and a retrospective conversion will begin after Fall River is completed. They are the 43rd library to join.
K.A.R. 54-4-1 Children's Internet Protection
Click the following link for the public library internet access policy requirements for children's internet protection.
Public Library Requirements